Best Products at the
Lowest Prices



TigerBill's Unique
Drum Lessons



Advertise With Us
Contact Us
Link to Us
Newsletter
News & Press Room
Order Info
Permissions & Reprints
Privacy Policy
Products
Register for Free
Welcome




Auctions
Books for Fun
Books for Education
Business
Buying Drum Gear
Chops Challenge
Clinics & Events
Concerts & Tours
Contests
Discount Drum Shop 1
Discount Drum Shop 2
Drum TV Show
Drum n Bass
Drum Skills Evaluation
Fame & Fortune
Famous Drummers
Forums
Fun With Drums TV Show
Gear & Accessories
Gladstone Technique
Healthy Drumming
Hip-Hop / Rap
History & Culture
How To Guides
Interviews
Laugh It Up
Lessons for Free
Loops & Samples
Magazines
Member Links
Merchandise
MIDI Files
Moeller Technique
MP3
Newsgroups
Radio
Record Your Own
Reviews
Schools
Sit-in & Play
Software
Sponsors
Store
Tabs
Tension Free Drumming™
Ticket Sales
TigerBill and Friends
TigerBill's Bio
TigerBill's Gear Picks
TigerBill's Clinics & Events
TigerBill's Drum Shop
TigerBill's Lessons
TigerBill's Place
Tips and Tricks
Videos
Vintage Gear
WFD
Buy Your Standard Ticket to DrumBeat Fest 2009 for $10
OR
Buy A Premium Ticket and get:
A Free 1-Hour Private Lesson with Tiger Bill
Plus
A Free Year's Subscription to the World's Premiere Online Learning Center for Tension Free Drumming!
Watch DrumBeat Fest Online anytime from October 31st through November 30th!
Hey Gang! I have been producing my annual DrumBeat Festival since 2004 and this year marks the first time that I am expanding it from a local event to a worldwide one!
This year anyone with a computer, an Internet connection, and a ticket can experience all of the wonderful drumming talent that is appearing on this featured Webcast!
As an official member of TEAMFOX, all proceeds from this event goes to benefit the Michael J. Fox Foundation for Parkinson's Research in memory of my dad who lost his battle with the disease.

You'll not only enjoy exciting performances from some of the world's greatest drummers, but you'll receive educational tips and tricks that will help you take your drumming to the next level!
Tickets are sold outbut stay tuned fot next year's Festival. But you can still Bid in our Online Auction!
Tiger Bill
"Tiger" Bill Meligari is an internationally recognized drummer, educator, clinician, author, and publisher with more than 30 years experience. In-demand as a drumset technical specialist, Bill travels the country educating others in his Tension-Free system of drumming and regularly performs at the world's most prestigious drum events such as KoSA, Cape Breton International Drum Festival, and his own annual Halloween DrumBeat Festival. His book "Double Drum: A Double Bass Drum Text" has received praise from master percussionists around the world, including Louie Bellson and Roy Haynes. Bill's new DVD on Hand Technique features his proprietary Tension-Free approach along with techniques used by the legendary masters of drumming. Tiger Bill is officially ranked as one of the World's Fastest Drummers in regard to both hand and foot speed by the World's Fastest Drummer (WFD) organization. Over the years, Bill has been featured with a variety of artists in all styles of music from Jazz with Thad Jones to Classic Rock with Vince Martell (original lead guitarist of the Vanilla Fudge). In addition to his work as Webmaster and original content provider of his popular drum and percussion Web sites "TigerBill's DrumBeat" at www.TigerBill.com and www.TensionFreeDrumming.com, Bill is the resident Drum Expert at Musicians.About.com and publishes a popular monthly video Drum Lesson column for the DRUM! Magazine Web site. Bill also produces the cable TV show Fun With Drums on Comcast Cable and regularly contributes articles to major percussion publications.
Bill endorses Taye Drums, SABIAN cymbals, Pro-Mark drumsticks, Aquarian drumheads, Pintech electronic drums, Axis Percussion, Hansenfutz, Beatnik Rhythmic Analyzers, and Alfred Publishing. For more on Bill, visit www.TigerBill.com.

Latest Updates on Artists Appearing at TigerBill's Halloween DrumBeat Fest 2009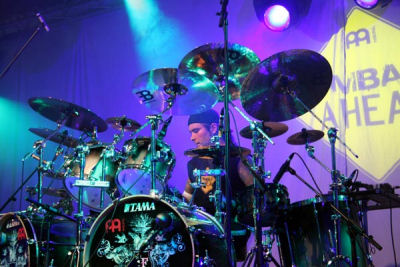 Jason Bittner
Award-winning drummer for Shadows Fall, Jason Bittner is one of the world's leading modern metal drummers. Experience his double-bass drum technique, blast beats, fills, and solos and learn how Jason got to the top of his game so you can get to the top of yours!
Jason endorses Tama Drums, Meinl Cymbals, Pro-Mark Drumsticks, Remo Drumheads, DW Pedals, and Samson/ZOOM. For more on Jason, visit: http://www.jasonbittner.com/.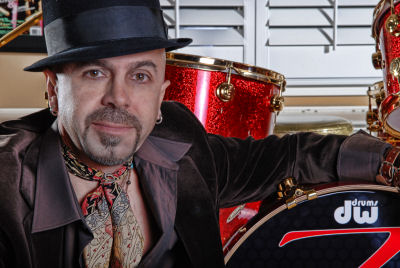 ZORO
He is the consummate definition of the rare man who marches to the beat of a different drum. Zoro has sat on the drummer's throne commanding some of the most famous stages in the world of rock and R&B music. One of the funkiest drummers on the planet, Z has toured and recorded with Lenny Kravitz, Bobby Brown, Frankie Valli and The Four Seasons, The New Edition, Jody Watley, Philip Bailey of Earth, Wind & Fire, Vanessa Paradis, Sean Lennon, Lisa Marie Presley, and many others.

Throughout his career, he has consistently been voted "#1 R&B Drummer and Clinician" in the world by premier music industry publications such as Modern Drummer, Drum!, and Rhythm Magazine.

Often called the "Minister of Groove," Zoro authored the #1 award winning and best-selling book and DVD package, The Commandments of R&B Drumming & The Commandments of Early Rhythm & Blues Drumming, (with Daniel Glass) which were awarded industry accolades as the ultimate lesson from the master.

"Zoro wrote the book on dynamics, touch, control and groove," says Modern Drummer magazine. One of Z's most inspiring performances can be seen on the DVD entitled, Modern Drummer Festival 2005 (Hudson Music).

Z is a sought after player, educator, clinician and motivational speaker because he's real, relevant, and relatable and connects with all generations. He has the heart of a true teacher and is motivated to serve and inspire his audience with all that he has.

Zoro is a kinetic bundle of human energy and enthusiasm. His heartbeat is in the groove itself and his is "a groove for the generations."
Zoro endorses, DW Drums, Sabian cymbals, and Vic Firth Drumsticks. For more on Zoro, visit: http://www.zorothedrummer.com.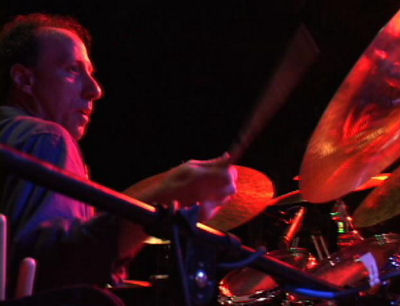 Terry Silverlight
Leader, composer, producer, arranger, drummer, author and educator Terry Silverlight has contributed his musical talents to projects in almost every style of music. In addition to performing all over the globe and on gold and platinum recordings, Terry has written, produced and arranged hundreds of pieces for network TV shows including One Life To Live, The Sopranos (including a song in an Emmy award-winning episode), All My Children, Ed, Beverly Hills 90210, Young And The Restless, Melrose Place, and many more. Terry's original compositions also appear in numerous feature films including Invincible with Mark Wahlberg (#1 box office movie in the U.S. for two weeks), Marci X with Lisa Kudrow, Sunshine Cleaning with Alan Arkin/Emily Blunt/Amy Adams, Mad About Mambo with Keri Russell, Head Over Heels with Monica Potter and Freddie Prinze Jr. Articles have been written about him in Tascam, Billboard, Electronic Musician, Mix Magazine, Mix Online, ASCAP's Playback, Princeton Alumni Weekly, Princeton's With One Accord, Modern Drummer, DRUM!, JazzIs, JazzTimes, Downbeat, Drummer, Goldmine, Swing Journal (Japan), JazzReview.com, Rivertown, The New York Times, O's Place, I Spy Soul, Drum Tracks, and Percussioner magazines.
Terry's drum book THE FEATURED DRUMMER is published by Music Sales/Amsco/G.Schirmer with an audio CD of Terry playing the exercises accompanied by John Patitucci and Barry Miles. His latest drum book is THE STICK BAG BOOK OF JAZZ, FUNK, FUSION, published by Music Sales.
Terry endorses Gretsch Drums, Paiste Cymbals, Pro-Mark Drumsticks, Evans Drumheads, and LP (Latin Percussion). For more on Terry, visit: http://www.terrysilverlight.com/.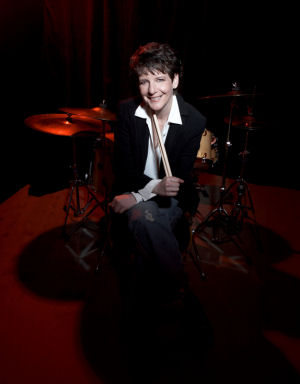 Dr. Sherrie Maricle, Ph. D.
For musician Sherrie Maricle, her drum set is a real-life metaphor of her career. Just as playing the drums requires coordinating four limbs at the same time, Maricle's career coordinates successes as a jazz artist, composer, teacher and music director.
From the drum set Maricle leads her big band The DIVA Jazz Orchestra, her quintet FIVE PLAY and The DIVA Jazz Trio. From Carnegie Hall, she performs with The New York Pops and is also the orchestra's Director of Education. As a music director Sherrie works with acclaimed Broadway star Maurice Hines. As a teacher she runs a private drum set and percussion studio and is also a conductor for The New York Summer Festival. She is also a busy freelance performer and a published composer/arranger in both the classical and jazz mediums. With The DIVA Jazz Orchestra and FIVE PLAY she has performed at many of the world's most acclaimed music venues including Carnegie Hall; Lincoln Center; Tanglewood; the Kennedy Center, the Hollywood Bowl and major jazz festivals throughout the United States and abroad, DIVA has been featured on CBS Sunday Morning with Charles Osgood, numerous times on CNN Arts Break and was highlighted on The 25th Anniversary of the Kennedy Center Television Special and The NHK (Japan) Network's New York Jazz. Most recently DIVA will be prominently featured in a documentary film entitled The Girls in the Band, scheduled for a 2010 premier.
As a composer, performer and educator, Sherrie has received several honors which include: The Mary Lou Williams Lifetime Achievement Award from The Kennedy Center, 2009; rankings for DIVA, FIVE PLAY and herself in Down Beat Magazine's Annual Reader's Poll; a feature story in Modern Drummer Magazine, for whom she has authored several articles; a tour grant from Arts International; The Kennedy Center Alliance Award for Outstanding Achievements in the Arts; a grant from Meet the Composer; a Doctoral Fellowship from New York University; and was voted the New York University Music Teacher of the Year in both 1997 and 2000. Additionally, FIVE PLAY's premier recording, On the Brink, was voted the #1 CD of 1999 by Nat Hentoff in Jazz Times magazine.
Sherrie is an active clinician for Yamaha Drums, Sabian Cymbals, Aquarian Drum Heads and Vic Firth Drum Sticks. For more on Sherrie, visit: http:// WWW.DIVAJAZZ.COM.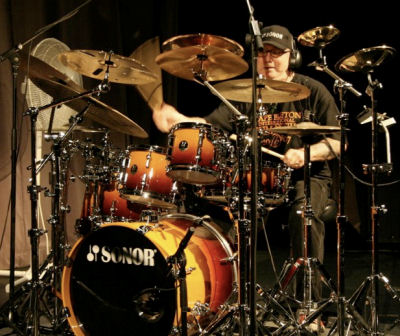 Bruce Aitken
World renown drum educator and performer, Bruce Atiken has been playing drums publicly since he was eight years old. He has worked with most of the big names throughout New Zealand and Canada and, along with his wife, is the founder and organizer of the annual Cape Breton International Drum Festival which celebrates its 10th anniversary next year. Bruce won the coveted 2004 Musician of the Year Award from the Music Industry Association of Nova Scotia (MIANS), and has appeared in nearly every major drum magazine. He is the subject of a national CBC TV program "On the Road Again," has toured with The Irish Rovers, Fred Eaglesmith, and recorded with Juno Nominated Asani and Ed Mann ( Frank Zappa), and was the first Canadian drummer to perform at the premier drum festival in Melbourne Australia (AUDW 2008). In 2008, Bruce was inducted into the Southland (New Zealand) Rock and Roll Hall of Fame.
Bruce endorses Sonor, Zildjian, Evans, Promark, Audix, XL Specialty, Drum Fun, Rhythm Tech, and Otarion Hearing Protection. For more on Bruce, visit: http://www.bruceaitken.net/.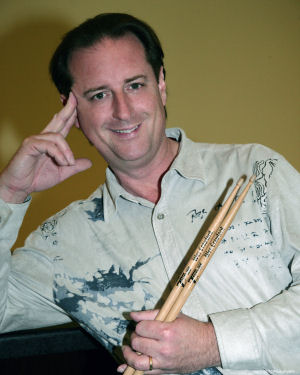 Wes Crawford
Wes demonstrated an interest in drums since the age of four and began his professional career after graduating college with a group that opened for acts such as Ray Charles, Melba Moore, Freddie Jackson, Lou Rawls, The Crusaders, Joan Jett, Ernie Watts, Paula Poundstone, and many others. Wes also performs and records with acts such as Shahin and Sepehr ( Higher Octave/Virgin world music artists), Cocktail Nuts (aka "C-Nuts" - jazz versions of rock classics, on WildChild/ Mapleshade Records), mrudangam virtuoso Umayalpuram K. Sivaraman, featured performance at Baltimore Drum Day 2000, and has also recorded for The History Channel and for PBS and, along with Scott Harlan, co-composed and co-produced music for the independent film, "The Amulet." Wes, who teaches at Goucher College in Baltimore, MD, is also the director of the Drumset and Percussion Camp, a part of the annual Goucher Summer Arts Institute, and of Hip Hop Music Camp in Baltimore. His latest original projects are his interactive " A Rhythmic Murder Mystery" DVD, which he also performs live, as well as "Wes Crawford's Drumset Play-Along" DVD.
Wes endorses drums handcrafted by Keith Larsen of Baltimore Drum Company as well as Dream Cymbals and ProLogix Percussion, and he plays exclusively on electronic drums by Roland US. For more on Wes, visit: http://www.wescrawford.com/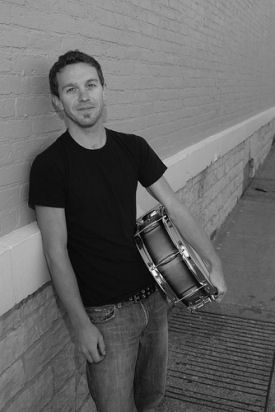 Scott Pellegrom
In 2006 Scott was the Drum Off Champion of the Midwest and North Region and the national runner up out of 5000 plus drummers in the Drum Off National Finals! Scott improvised every solo and stuck with "Groove". He has been a full time professional drummer since age 16 and has been playing all of his life.

Scott has studied with many great teachers including Johnny Rabb, Derico Watson and Mark Schulman and performed live with Chuck Levelle , Jeff Coffin, Karl Denson, Bernhard Lackner, The Drifters, and many others.

Currently Scott is on a clinic tour of 12 public schools. He is also teaching 30 plus students privately and working the percussion ensembles and Jazz Bands at Mona Shores Middle/High School. Scott is also writting and recording his first debut album due out early spring of 2010.

Scott performs with the Hot Pockets, ScottyP Project, Oregon Dream Child and recording and touring with Death By Dancing. He is also a very active studio drummer in Grand Rapids, Michigan.
Scott endorses VicFirth Sticks, Aquarian Drum Heads, Taye Drums, Dream Cymbals and many other great products. For more on Scott, visit: http://www.scottpellegrom.com/
Michael Manasseh
Michael Manasseh is a third grade student at the South Shore Christian Academy in Weymouth, MA and will be 9 years old this October. He began playing the drums at the Horrigan music school in Whitman, MA under the tutelage of John Horrigan, a few months after he celebrated his 5th birthday.
Michael's first public performance was at the annual annual music fest hosted by the New England Tamil Church in Wakefield, MA when he was 6 years old. Since 2006 he has played every summer at the Annual Horrigan Music School Recital. At the age of 7 he accompanied gospel singer and recording artist, Bro. Jollee Abraham in concert in Boston and he performed on the Debra Crosby live television talent show in Salem, MA as the youngest artist.
In the summer of 2008, Michael played at the world rhythm boot camp at New England Conservatory of Music in Boston, MA under the direction and leadership of Jerry Leake. In 2009 Michael performed a one hour solo recital at Chennai, India as a free concert to entertain family and friends and in September, Michael recorded a drum solo routine to be webcast as part of Tiger Bill's Halloween Drumbeat Fest to benefit the Michael J.Fox foundation for Parkinson's Research.
Michael regularly plays drums for the English worship every Sunday evening at the New England Tamil Church in Wakefield, MA. His current drum instructors are John Horrigan (Whitman, MA), Jerry Leake (Dorchester, MA), and Tiger Bill Meligari (Glen Gardner, NJ).
Please BookMark this page and come back often to see the latest update to our Artist Lineup!


TigerBill's Halloween DrumBeat Fest 2009 is sponsored by:
A Special THANK YOU goes out to each and every company who donated drumgear and/or artist support!
Have fun, stay loose, and I'll see you at this year's Online Halloween DrumBeat Festival 2009!
Tiger Bill
Become a Free Member of the largest, most Comprehensive Drum Site on the Web
Learn TigerBill's Innovative Tension Free Drumming and take your chops to the next level
Get TigerBill's Free Info-Packed Newsletter, Monthly Chances to Win Valuable Drum Stuff
& Much More...
* S I D E B A R *
Links Related
to this Article
Related Links on Site