Tiger Bill Reviews
Buddy Rich Up Close
DVD & CD
(Newly Updated Version)
A Drum Channel DVD distributed exclusively by Alfred Publishing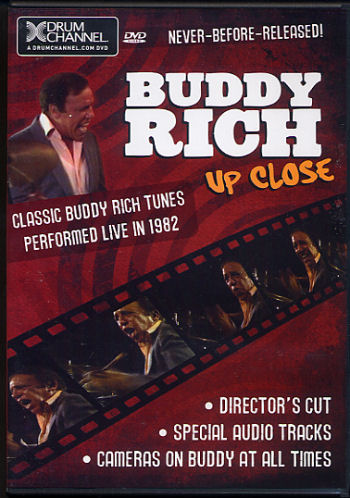 You may think that you've seen this before but this is a new version that includes a CD! Whether you're a fan of Buddy's or not, you need to check this out.
Let's get started!
Even Better Than Sitting Next to Buddy!
I was fortunate enough to have seen Buddy perform live with his big band many times but even I was looking forward to checking out this DVD. Here's the deal. In 1982, Buddy and his big band did a pilot for a jazz TV series. This DVD spotlights six Buddy Rich classics from that pilot that have been re-edited to show his performance from every camera angle possible.
The Songs:
Love For Sale
Bugle Call Rag
West Side Story
Birdland
Greensleeves
Dancing Men
Special Features
Include:
Never Before Seen Rehearsal Footage
Alternate take of Birdland
Interview with Matt Harris who was the writer/arranger and piano player in Buddy's Band
Slow Motion - Select footage
Buddy Hot in Mix - So you can hear exactly what Buddy's playing
Band Hot in Mix - So you can play-along with Buddy's Band
Promos of The Buddy Rich Show and Buddy Rich Memorial Concert
Plus an Audio CD that wasn't included in the original release of this title.
Bottom Line: Buddy Rich Up Close DVD and CD
Whether you have been lucky enough, or old enough, to have been able to enjoy Buddy's performance live or not, this DVD is a must have for all drummers of all ages regardless of style. Buddy was a true master and should be studied by every serious drummer on the planet and this DVD contains footage that has been taken from a variety of camera angles that show Buddy as you've never had the chance to see him beofre. The title says it all: Up Close!
I highly recommend it.
While a solid value at its retail price of $24.95, this DVD and CD set can be found online at an even better bargain:
Until next time: Stay loose.
Become a Free Member of the largest, most Comprehensive Drum Site on the Web
Learn TigerBill's Innovative Tension Free Drumming and take your chops to the next level
Get TigerBill's Free Info-Packed Newsletter, Monthly Chances to Win Valuable Drum Stuff
& Much More...