Tiger Bill Reviews
Odd Time Stickings
Book
by Gary Chaffee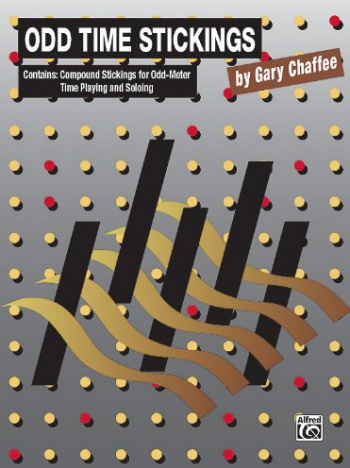 Gary Chaffee, in the field for over forty years, has taught some of the drum industry's top talent. His four-volume Patterns book series along with his videos are considered must-haves for any drummer. This book expands his original concept of stickings into their use in odd-meters. The book is arranged into 3 main sections. Let's check it out.
Introduction
Gary's sticking system, which consists of 11 sticking combinations made up of various combinations of single and double strokes, is explained in this chapter.
PART 1 - METER STUDIES
This section shows the application of Gary's 11 sticking patterns in phrases of 3/4, 5/8, 11/8, 13/16, 7/8, 15/8, and 5/4 time.
PART 2 - ADDITIONAL POSSIBILITIES
This final section gives you lots of variations on the material in Part 1 to provide you with limitless ideas to expand on your creative use of Gary's sticking patterns including:
Alternating Phrases
Combining Phrases
Naturally Longer Phrases
Permutations
Mixing Different Rhythms
Mixing Different Materials
Odd Time Stickings: The Bottom Line
When practiced with enough repetition to build these sticking patterns into your muscle memory, Gary's Odd Time Stickings will not only increase your expertise and ease of playing odd-metered time signatures, it will increase your facility to play polyrhythmic patterns such as 4 against 3, 3 against 5, etc. This will greatly expand your options for playing both groove and solo patterns in any style of music.
Highly recommended.
Odd Time Stickings while a good value at its retail price of $14.99, can be purchased at a discount online at:

Stay loose!
Tiger Bill
Become a Free Member of the largest, most Comprehensive Drum Site on the Web
Learn TigerBill's Innovative Tension Free Drumming and take your chops to the next level
Get TigerBill's Free Info-Packed Newsletter, Monthly Chances to Win Valuable Drum Stuff
& Much More...