Tiger Bill Reviews
Baby Steps to Giant Steps
The Road to Jazz Drumming
One Tempo at a Time
Book and CD
By
Peter Retzlaff and Jim Rupp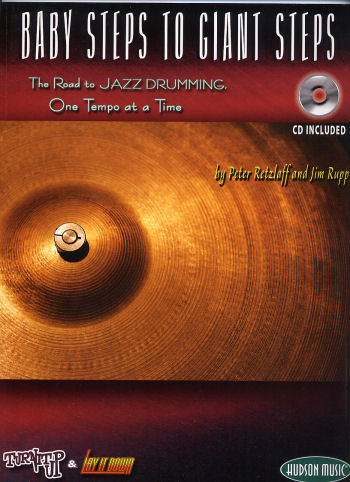 When I first met Spencer Strand at a NAMM show some years back, he put on a track with a plus 300 bpm tempo on it and asked me to play brushes to it, which I did. (I dig both brushes and up-tempos!) That track eventually became part of Spence's CD Baby Steps to Giant Steps, which was a music minus drums album dedicated to jazz drumming. What I loved about the CD was the fact that each tune progressively increased the tempo, which made for a great practice routine not only for aspiring jazz drummers but for seasoned pros as well. With the release of this book, which contains the original CD as part of the package, drummers now have actual drum charts to work with that correspond with each of the tunes. Let's check it out.
The Road to Jazz Drumming - One Tempo at a Time
The audio CD that's included with this book contains 11 songs that range over 10 different tempos from quarter note equals 100 through 310 bpm (beats per minute) all written in the style of one of 11 classic jazz standards. The tracks feature top New York based jazz Pro musicians on piano, upright bass, guitar, and sax, which makes playing along to these tunes especially fun and rewarding.
The book by Peter Retzlaff and Jim Rupp, written from the standpoint of a beginner to jazz drumming, consists of two basic sections. The first deals with the "Building Blocks of Jazz Drumming" and covers the techniques of playing the ride cymbal, feathering the bass drum, and contains a series of exercises to help you build the 4-way coordination required to play good jazz time. In addition, jazz fills are covered as well as brush technique.
The second section of the book contains the Charts to all 11 songs on the CD. Lead sheets and skeleton charts (abbreviated drum charts) are included for all songs while a full drum chart is included for two songs. In addition, each song is prefaced by tips and tricks and an explanation of the best approach to interpret the song. Also included are recommended solo patterns designed to fit each song, which will be of great help to beginners to the jazz style.
Baby Steps to Giant Steps Book and CD: The Bottom Line
Prior to the release of this book and CD set, I had been using the audio CD version only with my students. Now,with the addition of the drum charts and other helpful info in the book, I will be able to add another dimension to their studies - that of drum chart interpretation.
Although aimed at the beginning jazz drummer, I feel that this combo provides a practical workout for drummers of all experience levels. I would also highly recommend it to you rockers, even if you have no interest in jazz at all. Why? Because studying jazz will open you up to new rhythmic possibilities that will help you to expand your creativity regardless of your preferred style of music.
I highly recommend it to all drummers regardless of your musical style.
While a great value at its retail price of $19.95, click the following link to purchase it at a discount online:

Stay loose!
Tiger Bill
Become a Free Member of the largest, most Comprehensive Drum Site on the Web
Learn TigerBill's Innovative Tension Free Drumming and take your chops to the next level
Get TigerBill's Free Info-Packed Newsletter, Monthly Chances to Win Valuable Drum Stuff
& Much More...