Tiger Bill Reviews
Lessons with the Hudson Greats: Vol. 1
Book & DVD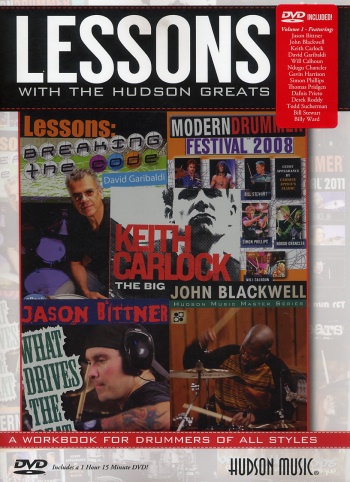 The sub-title says that this book is a "WorkBook for Drummers of All Styles." Let's check it out and see.
Simulating the Environment of a Private Lesson
Over the years, the folks at Hudson Music have been intergrating audio, video, and eBooks in with most of their print books. For example, by watching a video clip while following along with the printed music notation in a PDF, you can get close to simulating an actual private lesson. Recently, the folks at Hudson have been receiving feedback from drummers who say they have not been fully utilizing the included PDFs on their DVDs. So, this project was born. It's, basically, a print version of most of the eBooks from Hudson DVDs over the past few years.
Main Chapters

1- From the Hudson Music DVD What Drives The Beat - Jason Bittner
This chapter contains patterns, grooves, and exercises that Jason himself used to develop his metal drumming skills including lots of double bass drum workouts.
2- From the Hudson Music DVD Master Series: John Blackwell
This chapter contains transcriptions from John's original compositions including grooves from his work with Justin Timberlake, Cameo, and others. John, known for his fast foot technique, brings out his former teacher Marcus Williams, who shares his drills on developing fast foot chops.
3- From the Hudson Music DVD The Big Picture: Keith Carlock
Transcripts of some of the most sophisticated concepts that make up Keith's unique style. Included are the importance of thinking and phrases, ghost notes, fills that extend over the bar line, and advanced timekeeping techniques.
4- From the Hudson Music DVD Lessons: Breaking the Code - David Garibaldi
This section contains drills that develop two of David's trademark concepts - using two sound levels (ghost and main notes) to create the funk drumming style and the use of odd phrasing consisting of permutations and odd-numbered groupings.
5- From the Hudson Music DVD Modern Drummer Festival 2008
Examples in this section are taken from interviews filmed backstage at the Modern Drummer® Festival 2008. Each artist discussed topics relevant to their performance at the Fest and their examples cover almost every style of drumming. Artists featured are Thomas Pridgen, Billy Ward, Will Calhoun, Ndugu Chancler, Simon Phillips, Dereke Roddy, Dafnis Prieto, Todd Sucherman, Gavin Harrison, and Bill Stewart.
Bonus Features
In addition to the note-for-note transcriptions in the workbook,ia DVD containing select clips from the original Hudson DVDs referred to in the book is included.
Lessons With The Hudson Greats Vol. 1: The Bottom Line
This book/DVD can be used as a companion workbook to the Hudson Music DVDs from the past few years and can also be used as a stand-alone guide that gives you with a glimpse into the favorite concepts of an impressive list of world-class artists.
Whether you're familiar with these drummers or not and regardless of your drumming style, I'm sure you'll find inspiration as well as techniques you can add to your own bag of tricks in this collection. As such, I'd say it certainly does live up to its sub-title "Workbook for Drummers of All Styles."
While a good value at its retail price of $19.99, you'll find it at a substantial discount at the following link:

Stay loose!
Tiger Bill
Become a Free Member of the largest, most Comprehensive Drum Site on the Web
Learn TigerBill's Innovative Tension Free Drumming and take your chops to the next level
Get TigerBill's Free Info-Packed Newsletter, Monthly Chances to Win Valuable Drum Stuff
& Much More...