Tiger Bill Reviews
Big Band Drumming At First Sight
Book and MP3 CD
by Steve Fidyk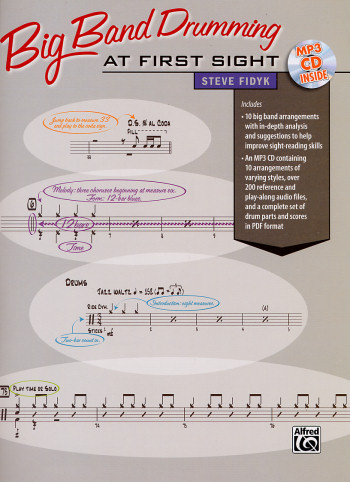 Steve Fidyk, drummer with The Army Blues Big Band from Washington, D.C., wrote a guide that explains the ins and outs of improving your sight-reading skills in a big band setting. Let's check it out.
Improve Your Big Band Drum Chart Sight Reading Skills
Steve opens by explaining his strategies for sight-reading and interpretation and then covers the key elements of a drum part.
Steve then covers the most common musical forms along with his method for interpreting a drum chart's road map.
The remainder of the book contains ten big band arrangements, along with mark-ups of each chart providing Steve's "road map" instructions that detail how each piece should be played. By the time you're finished with these examples, you'll have enough experience to easily be able to mark up your own drum charts. A complete set of unmarked charts are also provided for you to print and sight-read.
Bottom Line: Big Band Drumming At First Sight Book/MP3 CD
I regularly teach clinics to stage and jazz band drummers at the middle and high school levels and have found their biggest problem to be in their interpretation, or lack thereof, of drumset charts. Even though many of them can read music well, interpreting a drum chart is a totally different animal. In this book, Steve shows you all you need to know to be able to interpret any drum chart like a pro. Also of great value are the included MP3 tracks that contain both full-band and drum tracks for demo purposes, and full-band minus drums for play-along practice.
This book and CD set should not only be required study for all middle and high school drumset players, but for anyone looking to improve their big band chart sight reading skills.
While $19.99 is a good value for a 72-page book with an MP3 CD, you'll find it online at an even better discount:

Stay loose!
Tiger Bill
Become a Free Member of the largest, most Comprehensive Drum Site on the Web
Learn TigerBill's Innovative Tension Free Drumming and take your chops to the next level
Get TigerBill's Free Info-Packed Newsletter, Monthly Chances to Win Valuable Drum Stuff
& Much More...