Tiger Bill Reviews
The Big Gig:
Big-Picture Thinking for Success
Book
by Zoro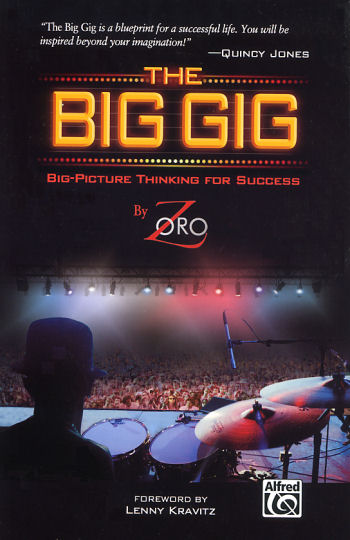 I first met and had the chance to hang with Z at PASIC 2002, but it wasn't until 2005 that I had the chance to really get to know him. This was when we performed together at the NJ Chapter PAS Day of Percussion. In 2009 he performed at my DrumBeat Festival, which was the first time that I produced it strictly as an online event.
Those who have been in this industry for a while know that it's not exactly filled with the brightest or most professional business minds on the planet. That's what impressed me about Z. Aside from being a great drummer and person, he takes care of business and does it well. So, to me, this book couldn't have been written by a more qualified individual.
Let's check it out.
The Art of Everything... It's all in there!
Just a quick glance at the table of contents in this book tells it all. Z has the music business, specifically from the drummer's angle, totally covered.
The book includes: Pros and cons of being a freelance musician, Using vision to define your dream, Planning for success, Importance of the proper attitude, Keys to developing your technical skill, Practice tips for maximum growth, Mastering music, Prepping for an audition, Critical factors for landing the Big Gig, Coping with rejection, Gigging for a living, Success in session work, Live touring tips, Self-management, Networking relationships, Self-promotion, Understanding endorsements, Expanding your career opportunities, Living free from addictions, Keys to maintaining personal relationships, and the Art of living life with purpose.
If Z has missed anything, I don't know what it could be! Sprinkled among his lessons throughout the book you'll find over 400 quotes to increase your motivation and inspiration.
In addition, Zoro includes the Big Gig Quiz consisting of 50 questions that, if answered honestly, will give you an excellent idea of your chances of scoring the Big Gig!
Another helpful tool that increases the value of the text is the inclusion of Quick Response (QR) codes throughout the book. Scan these with a smartphone or by typing the URL into a computer, and you'll have access to additional content including video clips and photos.
Bottom Line - The Big Gig: Big-Picture Thinking for Success Book
I highly recommend this book and I only wish that I had it when I started out in the music business!
Whether you are a musician who specializes in drums or any instrument, you need this book. Without it, you'll waste years of your life figuring out all of the things that Z has already neatly laid out for you.
While a steal at $19.99, you'll find it at an incredible discount here: