Black Potatoe Music Festival 2001
Black Potatoe Records

For this week's feature, I detour off the subject of drums a bit to tell you about an event that I feel should be in every town across the nation. It's a three-day Music Festival. But be warned. Once you experience it, there's no going back to those little two-hour concerts. Not only is local talent in abundance, there are headliners to please everyone. This year featured artists Tony Levin, Andy Summers, Mary Ramsey, and others.
Once you get a taste of a festival like this one, you'll want more and more and more of it. In fact, you may never be able to get enough. But that's OK. This is one habit that's good for your health.
The Root
The Black Potatoe Music Festival sprang from one man's dream. The man is Matthew Angus Williams and he started his independent record label when he was in college because he didn't like the way the major labels were promoting music. The name Black Potatoe Records came from Mr. Potato Head, a nickname Matt gave his college roommate. And, according to Matt, the added "e" on Potato came from Dan Quale's famous "correction" of a student's correct spelling of 'potato' during a spelling bee. Matt says, "If the former Vice President can spell it that way, so can I."
Matt's recording facility, Atomic Productions, was originally located on East Main Street in Clinton, New Jersey, but was recently moved into larger digs on West Main Street (still in Clinton). There, Matt has recorded the album "Face The Day," with Angus (his own band) as well as the soon-to-be-released album titled "Sway," featuring Kathy Phillips (the newest artist on Matt's label). In addition to Kathy Phillips and Angus, acoustic troubadour Gregg Cagno and the R&B-reggae-rock dance band Cairo round out the Black Potatoe roster.
The Little Label That Could - And Did!
If I had to choose a single accomplishment that Matt Williams has made for independent music, it would undoubtedly be the fact that he has gotten distribution for his CD "Face The Day" through all Borders Books and Music stores countrywide. This should give any independent artist some inspiration.
In 1997 Matt held a CD release party for his band Angus, which has now turned into an annual event that increases in popularity and attendance with every year. Although this was Matt's fifth annual Festival, it was the first time he extended it over a three-day period. Previous events were one day only.
I was lucky enough to be able to catch the entire three days and from what I saw, I believe we can look forward to another three-day event next year. The audience and the musicians were having a great time. I covered the event for this article but there was more than one time when I felt more like trading in my camera for a pair of drumsticks so I too could join in on the fun!
Location, Location, Location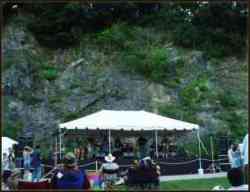 Main Stage by Day
The setting for the Festival was the Hunterdon Historical Museum - The Red Mill - located on the Raritan River in Clinton, New Jersey.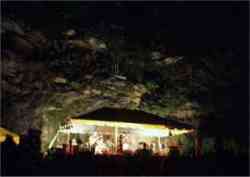 Main Stage by Night
The main stage was set up at the base of a 150-foot limestone quarry that formed a terrific outdoor amphitheater (see accompanying photos).
The best thing about the Festival is that it provides a showcase for national talent while giving popular local artists and up-and-coming young bands a chance to show their stuff too! New to the Festival this year was the addition of a second stage that was set up by the banks of the Raritan River. This allowed continuous nonstop music and it worked like a charm.
As you can imagine, it takes the efforts of many to pull off an event as big as this and Matt got considerable assistance from local businesses who sponsored the event as well as volunteers who worked at the Festival (not to mention Matt's two right hands - Kristen Blum and Jack Devaney - who coordinated the entire event).
The weather was absolutely perfect for the entire three days and there was plenty of good food and drink to be had (those natural fruit smoothies were my personal favorite).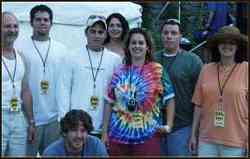 Black Potatoe employee Kristen Blum (in tie-dyed shirt) with some of the many volunteers who made
the Festival possible.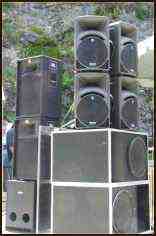 You can't have a concert without a sound system
and there certainly was no lack of sound here.
This speaker stack was mirrored on the
opposite side of the stage as well.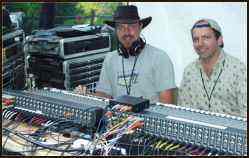 Sound men are the unsung heroes. Here Kurt Miller
and Lenny Grasso take a second to give me a smile
before getting back to business.
The Headliners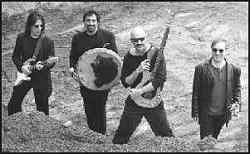 Tony Levin Band from left to right - Jesse Gress,
Jerry Marotta, Tony Levin, Larry Fast.
Friday night featured the Tony Levin Band. World-class bassist Tony Levin has been an in-demand studio and touring bass player for more than 20 years. Whether or not you recognize his name, it's certain that you've heard him play on at least one recording. He has recorded with John Lennon, Alice Cooper, Dire Straits, Pink Floyd, Peter Gabriel, and many others.
Tony has also worked with drummers as diverse as Buddy Rich and Terry Bozzio and, in addition to the bass, he is also known for his work on the Chapman Stick. Tony brought a top notch band to the Festival with him, consisting of Todd Rundgren guitarist Jesse Gress, Larry Fast on keyboards (who worked with Tony in Peter Gabriel's band), and Jerry Marotta on drums (who has worked with Peter Gabriel, Paul McCartney, Elvis Costello, Susan Vega, Robbie Robertson, The Indigo Girls, and many others).
Levin also started his own record label some years ago to allow him to record and distribute the music he really wants to play (translation - music that would not be of interest to the major labels). For more on Tony and his music, check out the link for Papa Bear Records in the Related Links sidebar.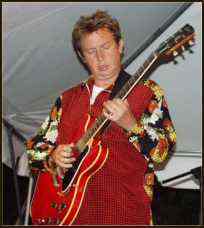 Andy Summers
Saturday night's feature attraction consisted of ex-Police guitarist Andy Summers who, since the 1986 breakup of The Police, has been busy recording solo albums and writing hit movie soundtracks. Nice work if you can get it.
Andy treated Saturday's audience to a performance of his jazz trio, featuring Joel Taylor on drums, playing tunes from Mingus and Monk along with Andy's originals.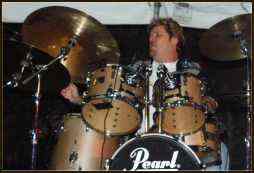 Andy's Drummer Joel Taylor
Sunday's main attraction featured the singing duo of John Lombardo and Mary Ramsey from 10,000 Maniacs performing an acoustic set for the audience.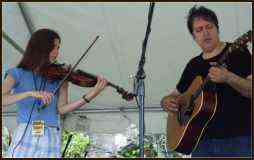 Mary Ramsey and John Lombardo
These headlining acts put the topping on what was an experience that was enjoyed by musicians and non-musicians alike. Over the three-day weekend, the Black Potatoe Music Festival provided something for everyone.
Black Potatoe Recording Artists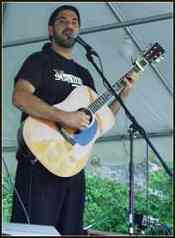 Gregg Cagno
Gregg Cagno
The first Black Potatoe recording artist to perform for the weekend was Gregg Cagno, a native of Clinton. He is a talented acoustic guitarist/singer/songwriter/entertainer who performed multiple times during the three-day event, always to an enthusiastic audience.
Gregg has been touring the country extensively in support of his latest release "Present Moment Days," on the Black Potatoe label. The Courier News also recently named Gregg "Songwriter of the Year." For more info, check out Gregg's Web site in the sidebar.

Angus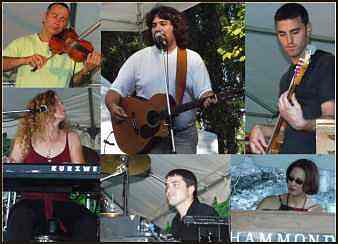 Angus members clockwise from upper left: Jamie
Coan (special guest), Matt Angus, John Davies, Kim
Williams, Tom Nelson, Megan Ernakovich.
Next up was Angus, the band created and led by singer/songwriter/guitarist Matt Angus (AKA Matt Williams). His band, the first to record on the Black Potatoe label, also featured John Davies on bass; Kim Williams on keyboards/Hammond organ, flute, violin, backing vocals; Megan Ernakovich on keyboards/backing vocals; and Tom Nelson on drums. (Coincidentally, I found out that Tom was a student of Glenn Weber and Joe Morello, who were two of my instructors.) For this show, Angus was joined by Jamie Coan originally of the group From Good Homes.
Angus impressed me both from the standpoint of their originals, first-class musicianship, and their ability to negotiate a variety of musical styles effectively. The band's latest release "Face The Day," is not only getting extensive airplay on more than 125 radio stations nationwide, but it is being distributed nationwide by Border's Books and Music Stores.

Cairo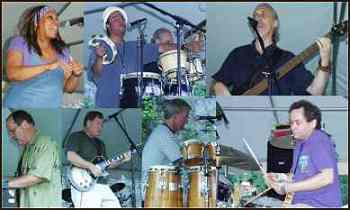 Cairo members clockwise from upper left: Barbara Walker, Rich Giraud, Chas Marsh, Pete Diana, Lew Stival, Jon Male, Bill Brain.
If ever there was a party band, Cairo is it. Performing in central Jersey and Pennsylvania for 20 years, this rhythm band can make anyone move their feet to their funky R&B, reggae, and rock beats. Every time they performed during the three-day event, people were on their feet dancing.
After their Saturday performance, I spoke with Cairo's drummer Pete Diana who joined the band in 1986. (Bill Brain was looking for a drummer and he just happened to walk into the music store where Pete was working.) Pete has been with the band ever since. The other members of Cairo are: Barbara Walker (soul singer extraordinaire), Jon Male (guitar/vocals), Lew Stival (congas, bongos, timbales, and assorted percussion), Bill Brain (guitar/backing vocals/harmonica/keyboards), Rich Giraud (vocals/percussion), and Scott Lyons who alternates playing bass with the new kid on the block Chas Marsh (bass/songwriter). Chas has been with the band for 8 years.
For info on Cairo's CD or to find out where they're appearing, check out their Web site (in the sidebar).
Kathy Phillips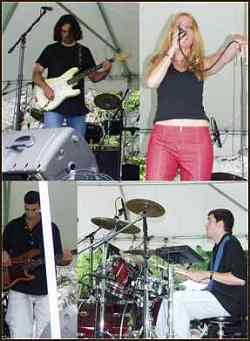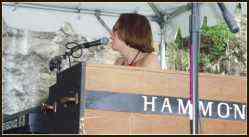 Clockwise from upper right corner -
Kathy Phillips, Tom Nelson, Kim Williams,
John Davies, Anthony Krizan.
The latest addition to Black Potatoe Records, Kathy Phillips is a versatile vocalist who can sing a song sweetly but has a strong enough set of pipes to belt it out when necessary. The Festival gave her an opportunity to showcase her original songs both in soft acoustic sets and a solid 5-piece ensemble.
Kathy makes her recording debut this September with "Sway," an album produced by Matt Angus that features Anthony Krizan on guitar (Spin Doctors, Lenny Kravitz), John Ginty on Hammond organ (Jewel, Lou Reed), Dave Becker and Tom Nelson on drums, Kim Williams on keyboards and backing vocals, and John Davies on bass. See Kathy's Web site (in the sidebar) for more information.
Become a Free Member of the largest, most Comprehensive Drum Site on the Web
Learn TigerBill's Innovative Tension Free Drumming and take your chops to the next level
Get TigerBill's Free Info-Packed Newsletter, Monthly Chances to Win Valuable Drum Stuff
& Much More...