Reflections on Ron Spagnardi
April 25, 1943 to September 22, 2003
On September 22nd, 2003, Ronald Spagnardi passed away at the age of sixty. The Drum Community lost a true friend... He is gone but he will never be forgotten.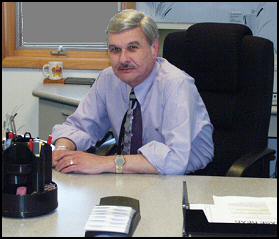 Ron at his desk at Modern Drummer Magazine April 15, 2003
For the past few months I had heard rumors that Ron was ill but I had no idea how serious it was. It seems that, for the past five years, Ron had been battling cancer. It had gone into remission for a while but, as cancer often does, it came back and on Monday, September 22, 2003 Ron lost the battle. When I first heard the news, I was shocked. I remembered speaking to Ron at the Modern Festival this past May and, now that I reflect back on some of the things he said at the time, I get the feeling that he may have known even then that he was enjoying his last MD Fest.
Family, Friends, and The Drum Community Gathers to Say Goodbye
The funeral home was filled with Ron's friends, family, drummers, and others involved in the music industry wanting to pay their final respects. Family members had photo albums showing Ron over the years beginning from a young child playing his first set of drums up what turned out to be his final MD Festival this past May. Over the past 27 years that the Modern Drummer Magazine has been in existence, Ron made many friends in the business and they all wanted to pay their final respects. Those who could not attend in person sent their condolences, which were placed into a book for all to see. I was impressed by the sentiments expressed by drummers from all over the world. Even MD Magazine's main competitor paid their respects, calling Ron the "pioneer" in their field.
Looking Back on Ron's Accomplishments & Forward to the Future of MD
I first met Ron back in 1977 when he and his wife and business partner, Isabel, were just starting up their new business. It was a magazine for drummers and they had just set up shop in the basement of their home. The idea came to Ron after he noticed that practically every major instrument had a magazine except drummers. In an interview with Ron on Modern Drummer Magazine's 25th Anniversary, Ron referred to his labor of love as " just a crazy idea." But it was a "crazy idea" that changed the world of drumming forever. For the past 27 years, Ron has provided inspiration and education to generations of aspiring drummers and not only through his Modern Drummer Magazine. Ron expanded MD Publications to include his own books and those of well-known drummers. He also published Drum Business, which is a magazine specifically for drum retailers. And he was the producer of another industry first, the Modern Drummer Festival Weekends, now entering their 18th year.
In case you think this is the end of Ron's credo to "promote the dream of drumming" let me assure you that it is only the beginning. Ron's wife, Isabel, told me that she is committed to carrying on Ron's work and, although it won't be the same without him, she intends to do the best that they can. And everyone on the MD staff is behind Isabel 100%.
A scholarship fund will be established by Ron's family and the staff of Modern Drummer Publications. Details for contributions to that fund will be announced shortly, and will also appear in the March issue tribute.
Become a Free Member of the largest, most Comprehensive Drum Site on the Web
Learn TigerBill's Innovative Tension Free Drumming and take your chops to the next level
Get TigerBill's Free Info-Packed Newsletter, Monthly Chances to Win Valuable Drum Stuff
& Much More...