Modern Drummer Festival 2003

There were plenty of phat Drums and Percussion at the MD Fest. Here's just a small sample: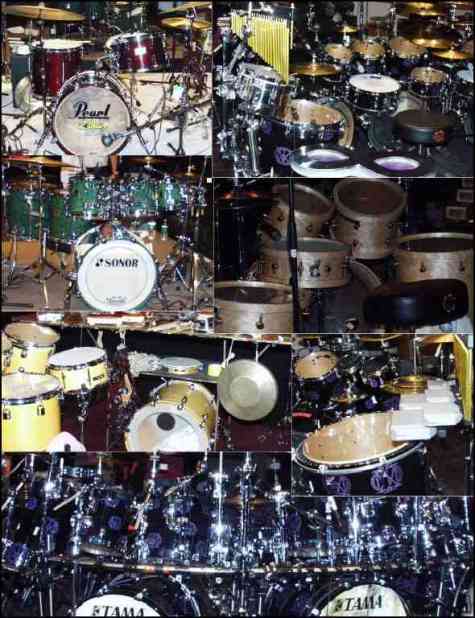 And, in addition to the front stage action, here's a taste of what was going on backstage...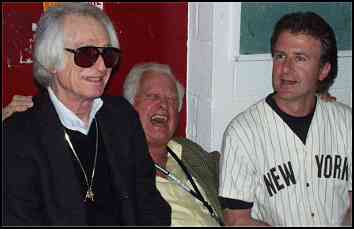 Teaching icons Freddie Gruber (left) and Jim Chapin (middle) are joined by Hudson Music's Rob Wallis (right)

Exclusive Video of Jim Chapin Backstage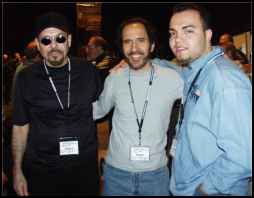 Tiger Bill flanked by WFD Champs Art Verdi (left) and Jotan Afanador (right)
Undiscovered Drummer: Louis G. Santiago, Jr.
The winner of MD's Undiscovered Drummer in the over 18 age category this year was Louis G. Santiago, Jr. from New York. He performed an interesting pattern with his left foot on two pedals. He played a clave beat using the heel of his left foot on one pedal to trigger a cow bell, while playing a cascara using the toes of his left foot to trigger a jam block. And, while that was all going on, he soloed against it. Nice. I had the chance to speak to Louis after his performance and he told me he has only been playing drums for about 4 1/2 years. He started playing when he was 18. He wanted to take lessons at the Drummer's Collective in New York but couldn't afford it so he decided to join the Navy. He eventually got a drumset while in the Navy. He tried out for and won the Guitar Center Drum Off 2001. He went on to win the regionals and placed 7th nationally. When he got out of the Navy, he found that the Drummer's Collective was now on the list of VA approved schools for financial assistance, so Louis finally got to live his dream and study there. He entered the MD Undiscovered Drummer and the rest is history. I'm sure we'll be hearing a lot more from Louis in the future.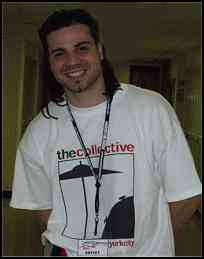 Louis G. Santiago, Jr.
MD's International Showcase featuring
The Drumbassadors: Rene Creemers and Wim DeVries
Rene Creemers is one of Europe's top drummers and has worked with many Dutch artists. He is also an experienced clinician and educator who currently plays in three bands: The Rich Wyman Band, Kazda, and MEC. Wim DeVries is a highly talented drummer on the up and coming list. Their routine consists of precision drumming and stick flipping antics combined with counter rhythmic duets blended with humor and vocals. Together these two artists from Holland are The Drumbassadors and they have put together a unique act that is both visually and aurally stimulating and the audience loved them. So did I. (The Drumbassadors were sponsored by Sonor Drums, Paiste Cymbals, Meinl Percussion, and Regal Tip Drumsticks.)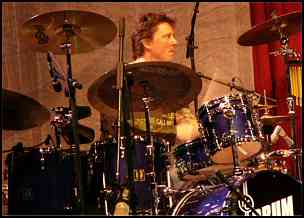 Rene Creemers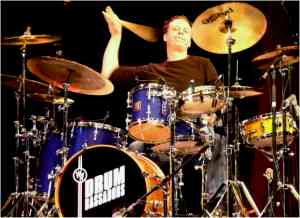 Wim De Vries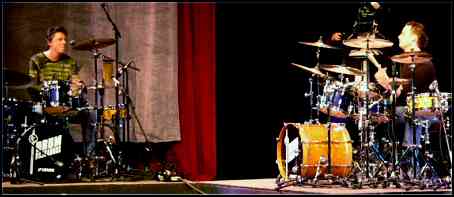 The Drumbassadors
More Door Prizes and More Awards
Between each artist's segment the door prizes kept coming with DrumHeads going home with free books, DVDs, cymbals, drums, and lots of other cool gear, all courtesy of the many sponsors of the MD Festival.
Rick Van Horn also presented MD's Editors Achievement Award to Ralph Angelillo and Serge Gamache of Canada, the organizers of the Montreal Drum Fest who celebrated the 10th Annniversary of their Drum Fest last year, making them the second longest running Drum Fest in the world. A second award was given to Robert Paiste and, posthumously, to Toomas Paiste who died in an accident in August 2002. (The award was accepted on behalf of the Paistes by Ed Clift and Rich Manjicaro.)
Rick also handed out some of his "Commemorative Long-Distance Traveler Award" that goes to the DrumHeads who travel the farthest to get to the Festival. The award is officially called "The Duron Johnson Commemorative Long-Distance Traveler Award," named after drummer Duron Johnson from Anchorage, Alaska who won the award for the first five years of the Festival. Although he has been at several subsequent festivals, after his fifth win MD "retired" Duron undefeated and named the award after him.
Nick D'Virgilio
Nick has made his mark in the music world through his work with the progressive rock band "Spock's Beard." In addition to his work with other artists, Nick has recently released a solo CD called "Karma." And Nick will be stepping out from behind the drums to become the new lead vocalist in "Spock's Beard." Today, he gave the drum Fest a taste of his skill as both a drummer and vocalist. He opened his segment with a drum solo and then played and sang along to the soundtrack of "A Guy Named Sid" from Spock's Beards latest album "Feel Euphoria." (Nick was sponsored by Mapex Drums, Meinl Cymbals, Vic Firth Drumsticks, and Aquarian Drumheads.)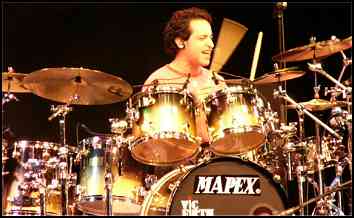 Nick D'Virgilio drumming...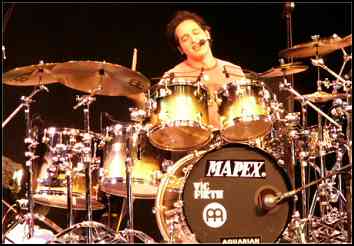 and vocalizing
Antonio Sanchez
After seeing his clinic/performance I can understand why jazz guitarist Pat Metheny calls Antonio "a drumming monster in the lineage of Jack DeJohnette and Roy Haynes." The drummer, who has played with Avishai Cohen, Danilo Perez, David Sanchez, and Miguel Zenon, now works with Metheny. In his impressive clinic, Antonio played a solo based on the clave pattern in 4/4, 5/4, and 7/4 time in his left foot, while varying the tempo of a different pattern in his left hand. He performed this feat in a number of ways, slowing the tempo down and speeding it up while playing a constant tempo clave beat with his left foot. His drumset was sideways to give the audience a good look at his chops.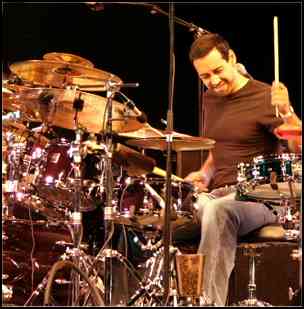 Antonio Sanchez
Antonio had planned to perform to music on his laptop computer but the computer wasn't working so he held a question and answer session instead. Most of the questions had to do with his ability to maintain the clave beat in various time signatures while speeding up and slowing down the pattern of any of his other limbs at will. He was also asked whether he copied the playing styles of former Pat Metheny drummers, like Danny Gottlieb, or if he played his own way. His said he started by playing in a style similar to what Pat was used to but then he eventually began playing it his way. He finished out his segment with a solo, which led to a well-deserved standing ovation. (Antonio was sponsored by Yamaha Drums, Zildjian Cymbals & Drumsticks and Evans Drumheads.)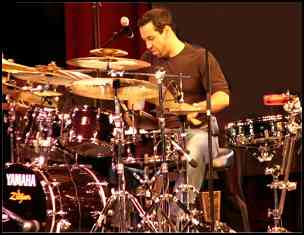 Antonio Sanchez
Airto
There are very few percussionists who are universally known by their first name only and Airto is definitely one of them. Airto Moreiro has worked with many musicians over the past thirty plus years including Miles Davis and Chick Corea (as an original member of Weather Report). Airto has also worked as co-leader in bands with his wife (singer Flora Purim), bandleader, composer, drummer, and percussionist bringing his Brazilian influence to jazz and fusion style music.
Airto opened his segment by explaining his concept of musical energy, how we are surrounded by it and how it can change a person's state of mind. According to Airto, every time a musician plays it should make the people listening "feel better." That's why he says he plays "the spirit of the music." Look at the photo below and you'll get an idea of the vast number of percussion instruments Airto used for his opening piece, which included vocal chants, stick and mallets on various percussion, shakers, temple blocks, agogo bells, and even a bird whistle. After this piece Airto joked "I have too much percussion and I'm ashamed of myself," which amused the audience.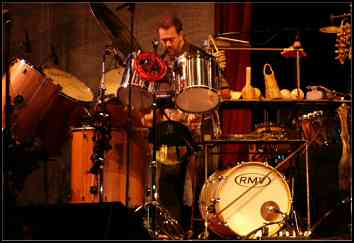 Airto surrounded by lots of percussion
Airto played his next piece entirely on a unique tuned metal percussion instrument that was hand made for Airto by Pete Englehart and even given a name (see the photo below).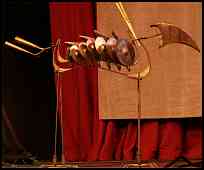 The Fossil
For his next two selections, Airto used a traditional drumset with the addition of a few percussion instruments.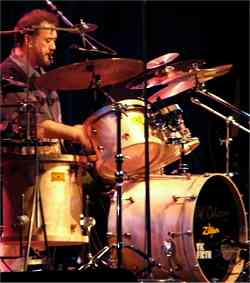 Airto's drumkit
Lastly, Airto stood in front of a microphone and creatively incorporated vocal sounds in conjunction with a hand drum and whistle for his grand finale. It seems his creative musical "spirit" reached the audience and they thanked him with a standing ovation. (Airto was sponsored by Latin Percussion, RMV Percussion, Zildjian Cymbals, Vic Firth Drumsticks, and Audix Microphones.)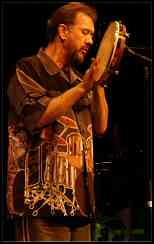 Airto's Grand Finale
Shawn Pelton
For the last several years, Shawn's gig has been house drummer for Saturday Night Live. Not bad! In addition, he has worked with many of the best artists in the business, including Jon Bon Jovi, The Brecker Brothers, Sheryl Crow, Celine Dion, Bruce Hornsby, Elton John, Bruce Springsteen, and Rod Stewart to name a few!
For his MD Fest appearance, Shawn assembled a group he dubbed "House of Diablo" with Jeff Golub on guitar, Brian Mitchell on keys, Conrad Korsch on bass, and Clark Gayton on trombone and tuba. The group opened with an up tempo shuffle, followed by a funky version of "Mercy, Mercy, Mercy," and a unique version of James Brown's "I Feel Good." Shawn then discussed some of the strange instruments studio drummers have to come up with sometimes and demonstrated by incorporating a washboard into his next tune!
Shawn closed his segment, and MD Fest Sunday, with his version of "Boom Boom." He received a standing ovation and the audience was yelling for more but time would not allow. As Rick Van Horn explained, the Festival was running late due to some technical difficulties, so he thanked everyone for coming and that was the end of another totally entertaining MD Fest. But, as I mentioned earlier, the Festival was videotaped this year and will be available from Hudson Music sometime toward the end of this year. As soon as it is released, I'll let you know.
I'd like to thank everyone on the staff of the Modern Drummer Magazine for allowing us access to the MD Fest and a special thanks to Rick Van Horn for the tour of the MD offices in addition to another fine job coordinating this year's Drum Fest, the longest running Drum Festival in the world. Cool!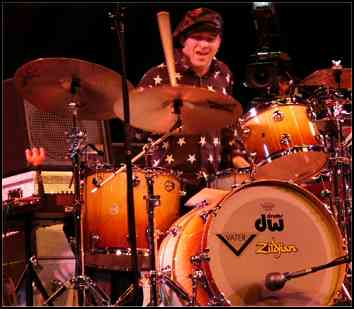 Shawn Pelton
Click the following link for MD Fest 2003: Saturday Performances!
Click the following link for History of Modern Drummer Magazine and the Making of MD Festival Performances!
Become a Free Member of the largest, most Comprehensive Drum Site on the Web
Learn TigerBill's Innovative Tension Free Drumming and take your chops to the next level
Get TigerBill's Free Info-Packed Newsletter, Monthly Chances to Win Valuable Drum Stuff
& Much More...