Modern Drummer Festival 2003
Undiscovered Drummer: Mike Orris, Jr.
The winner of MD's Undiscovered Drummer Award in the under 18 age category this year was Mike Orris, Jr. from Sparks, Nevada and he played his butt off! After which, Ron Spagnardi presented him with a pair of drumsticks engraved with "Undiscovered Drummer 2003" and his name. Mike has only been playing drums for 5 years and he's a natural. He told me "My main influences have been Buddy Rich, Neil Peart, Marco Minnemann, Chris Penny, and Danny Carey." From more on Mike, check out his two bands at the following Web sites: eightimesover and Existence.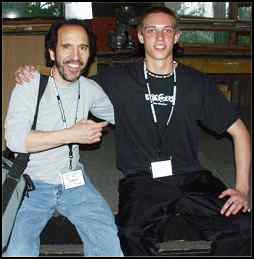 Tiger Bill with Mike Orris Jr.
Hip Pickles
With an act as unique as its name, this three-man drumming dynamo blends singing, choreography, humor, and audience participation with precision drumming. The group consists of Chet Doboe, Chris Scherer, and Jeremy Fischer who hail from Long Island, NY. They first appeared at MD's Festival in 1993 and were so popular that they were asked to return again in 1995. Since their first appearance at the 1993 Fest, the Hip Pickles have appeared at major Drum Festivals all over the world and also on TV.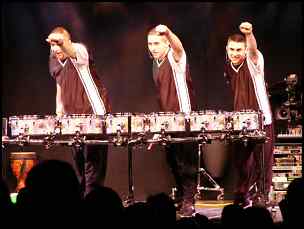 You've got to see these guys to believe them. (And you will see them. Hudson Music videotaped the entire Festival this year for release toward the end of the year.) Talk about precision drumming not to mention some serious hours of practice! The Hip Pickles are an extremely high-energy act. Their shtick includes fancy footwork (ala STOMP) combined with rhythmic chanting combined with incredible displays of drumming that gives the word "precision" new meaning.
Check out the photo below where these guys are each playing one double-stroke portion of a closed roll in turn. It is so clean that it sounds like one person playing a continuous roll!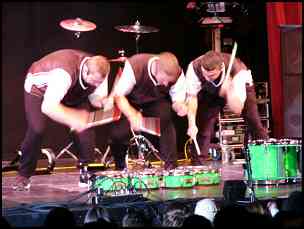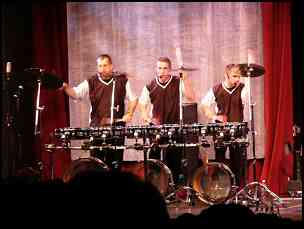 Hip Pickles perform behind their mini-drumsets
The Hip Pickles entertained the audience with about a dozen routines without so much as repeating the same thing twice. They are an ideal combination of skill, creativity, and entertainment. To hear them for yourself check out their CD, "Hip Pickles-Out of the Jar." (Hip Pickles was sponsored by Sabian Cymbals, Pro-Mark Drumsticks, Remo Drumheads, and Gibraltar Hardware.)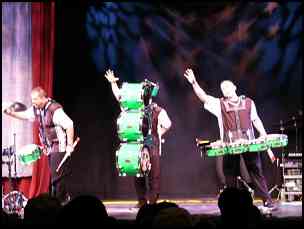 The Hip Pickles: Chet Doboe, Chris Scherer, and Jeremy Fischer
Door Prizes and Awards
Between each artist's segment, while Rick's stage crew sets the stage for the next performance, there is an intermission where MD gives away door prizes to lucky Festival goers whose ticket numbers are called (this year they even included some copies of my book "DoubleDrum: A Double Bass Drum Text" with the door prizes).
In addition, Rick Van Horn presented Robert Zildjian of Sabian with Modern Drummers 2003 Editor's Achievement Award.
Modern Drummer Magazine also received an award from Sonor Drums for their leadership in and contribution to the percussion industry.

Nathaniel Townsley
Nathaniel, who started his career playing Gospel music in church bands at the age of three, has worked with artists like Mariah Carey, Stevie Wonder, Dru Hill, Public Enemy, Chico DeBarge, Joe Zawinul, and others. He is currently on tour with jazz bassist Richard Bona. Nathaniel was first profiled in MD in March of 2000 in an "Up & Coming" story and now, three years later, he makes his debut at the MD Fest.
Nathaniel opened his segment by sharing some of his practical experiences with the drumming audience. Then he brought out Ron Long on bass and Shedrick Mitchell on Hammond B3 organ (complete with Leslie cabinet) and proceeded to do his thing. If you haven't heard of Nathaniel Townsley before, remember his name. I'm sure we'll be hearing a lot more from him in the future. (Nathaniel was sponsored by GMS Drums, Paiste Cymbals, Pro-Mark Drumsticks, and Evans Drumheads.)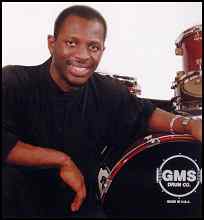 Nathaniel Townsley
Matt Wilson
Matt first started making noise in the New York jazz scene in 1992 through his work with Cecil McBee, Dewey Redman, Lee Konitz, and others. In 1996 he released his debut CD, "As Wave Follows Wave" to critical acclaim for both his drumming and composing skills. Since then, he has released three more albums and all have met with similar success.
At the MD Fest, Matt performed his own jazz and latin compositions featuring Andrew D'Angelo on alto sax and bass clarinet, Jeff Lederer on saxes and clarinet, and Martin Wind on bass. Showing his sense of humor, he closed with a rock tune he wrote during which he lampooned a "Rock Star Drummer" complete with long-haired wig, muscle t-shirt, and drumming gloves. The audience cracked up. (Matt was sponsored by Zildjian Cymbals & Drumsticks and Remo Drumheads.)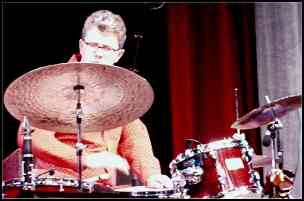 The "Subtle" Matt Wilson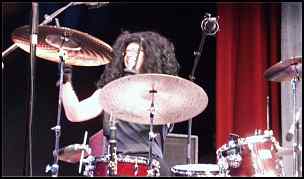 The "Rocker" Matt Wilson
Steve Smith
This Festival appearance marked the fourth time Steve has played at the MD Fest, which is more than any other artist. And, I have to say, Steve is one of my favorites. Before his performance, Rick Van Horn presented Steve with a plaque from Modern Drummer for his excellent two-disc DVD, "Drumset Technique/History of The U.S. Beat" from Hudson Music.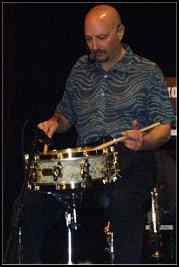 Steve Smith working the Snare Drum
Steve opened his segment at the front of the stage, seated behind a snare drum, and he started playing some brush chops.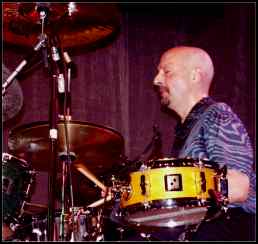 He then switched to sticks for a demonstration of the various sounds you can get out of a snare drum before making his way to his drumset, which was set sideways to the audience so they could clearly see Steve's hands and feet in action. To top it all off, Steve brought out the members of his group "Vital Information" to perform, featuring Baron Browne on bass, Tom Coster on keys, Frank Gambale on guitar, and special guest Bill Evans on sax. They played three tunes, "RattleTrap" written by Bill, "A Little Something" written by Frank Gambale, and concluded with a group composition called "Over and Out." (Steve was sponsored by Sonor Drums, Zildjian Cymbals, Vic Firth Drumsticks, Remo Drumheads, and DW Pedals.)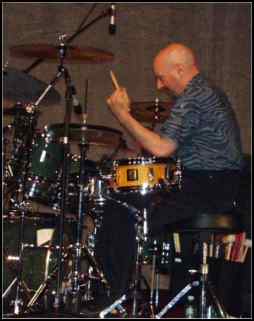 Steve Smith
Mike Portnoy
In 1995, when Mike first played the MD Fest, he was a relative newcomer. Eight years later he returns to the MD Fest as one of the most recognized names in drumming. Mike's work with his group Dream Theater has assured him a place in music history. But, never one to rest on his laurels, Mike constantly works on numerous side projects. And although Mike is widely known for his voluminous drumsets, he opened his MD Fest segment playing a basic 4-piece kit specially made by Tama as a clone of the kit Ringo originally used with the Beatles back in 1963. To go along with the kit, Mike brought out his latest band, "Yellow Matter Custard" to play some of the Beatles' greatest hits. The band featured Matt Bissonette on bass, Paul Gilbert on guitar, and Neal Morse on guitar and keyboards.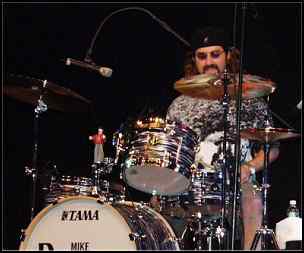 Mike Portnoy behind the custom made Tama drumset clone of Ringo's original Beatles kit
The audience was on its feet at the end of Mike's Beatles set but Mike was just beginning. The stage went dark and Mike's gear disappeared to be replaced by his usual monster sized kit and, as an unexpected surprise, he was joined by his Dream Theater band featuring John Myung on bass, John Petrucci on guitar, and Jordan Rudess on keyboard. Needless to say, the audience went wild. As shown in the photo below, Mike gave everyone an unorthodox but extremely satisfying view of his chops as he played with his back to the audience. (Mike was sponsored by Tama Drums, Sabian Cymbals, Pro-Mark Drumsticks, and Remo Drumheads.)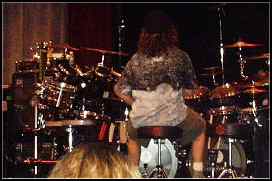 Mike at home behind his monster kit
So ended the performances for Festival Saturday. For more photos of the Festival artists drum gear, some backstage goings on, and Sunday Performances click the following link.
Click the following link for MD Fest 2003: Sunday Performances!
Click the following link for History of Modern Drummer Magazine and the Making of MD Fest!
Become a Free Member of the largest, most Comprehensive Drum Site on the Web
Learn TigerBill's Innovative Tension Free Drumming and take your chops to the next level
Get TigerBill's Free Info-Packed Newsletter, Monthly Chances to Win Valuable Drum Stuff
& Much More...