Hey! I'm Tiger Bill... Welcome to my Drum Site!
For my Latest FREE Lesson Guide "8 Steps to Drumming Without Tension" click the link below and ask to join our closed FaceBook Group. Once I let you in, you can instantly download it from there:
https://www.facebook.com/groups/tensionfreedrumming/
And for FREE Access to my New Membership Drum Site, follow this link to pre-register today:
Click to Pre-Register for my New Tension Free Drumming Site
Check out my Clearance Sale Product Blow Out featuring Crazy Low Prices and Free Shipping But Stock is Limited and once they're gone, they're gone for good!
CLICK for CLEARANCE SALE on Drum Play-Along Books & CDs

AND If you're looking for Tiger Bill's exclusive Concepts of Tension Free Drumming for hand technique, You Just Found It at a Special Discount:
Buy Tiger Bill's Tension Free Drumming DVDs Tiger Bill's incredible TFD Hand Technique system that enables anyone to play at their maximum potential while avoiding the risks of repetitive motion injuries caused by playing under constant tension!
~~~ It's HERE... The Ultimate Drumming Method is Now Available on DVD! ~~~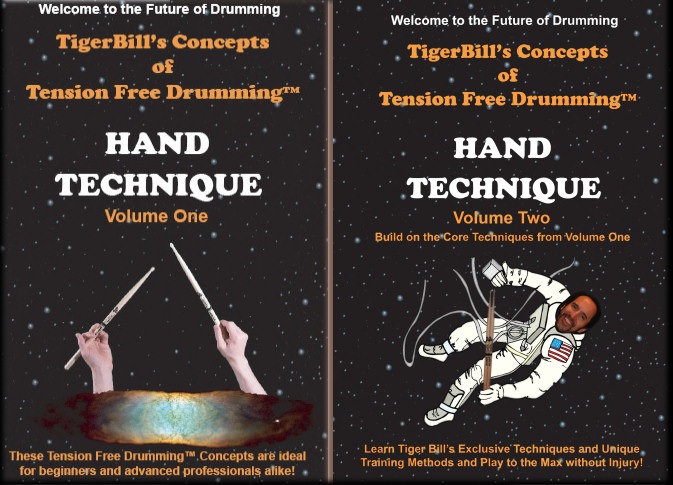 Here's a sampling of what you'll learn on these two Groundbreaking DVDs:
Stick Grips
Basic Mechanics
Wrist Technique
Training Methods
Advanced Finger Techniques
Finger Glide
Stick Walking
Secret to Playing Tension Free
Straight Arm Technique
Modified Moeller Arm Whip
Accenting Methods
Advanced Gladstone Stroke
Roll Techniques
Grace Note Rudiments
One-Handed Rolls
Cymbal Time
Wrist / Finger / Arm Combinations
And much, much more!
Click to Buy Tiger Bill's Tension Free Drumming DVD at a Discount
Tiger Bill is officially recognized as one of the world's fastest drummers and has proven his skill by winning the NAMM World's Fastest Drummer Competition, where he was clocked at speeds of over 1,000 beats per minute with both his hands and feet! An extremely rare accomplishment.
He owes his extreme speed, power, endurance and control to the system he has developed over the past 30 years known as Tension Free Drumming™. Ideal for use in any style of drumming, TigerBill's system is being used by beginners and pros all over the world to help them play at maximum efficiency with minimum effort and without the fear of injuries caused by playing with muscles that are constantly under tension.
Click this link to learn how YOU can benefit from Tension Free Drumming™.

Register Now for the Best Drum Lessons
on the Planet
TAKE AN ONLINE DRUM LESSON with TigerBill!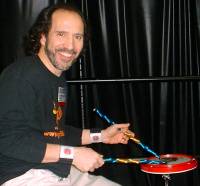 REGISTER NOW FOR YOUR PRIVATE ONLINE WEB LESSON with TigerBill!

Check out Tiger Bill's Latest Free Lesson:
How to Play Accents with Fast Fingers
Enjoy More Free Speed Drumming Video Lessons on DRUM! Magazine
And Even More Free Drum Lessons from Tiger Bill.

Check out Tiger Bill's Latest Reviews
Click Here for Tiger Bill's Bottom Line Reviews



Interview with Tiger Bill in The Black Page Magazine!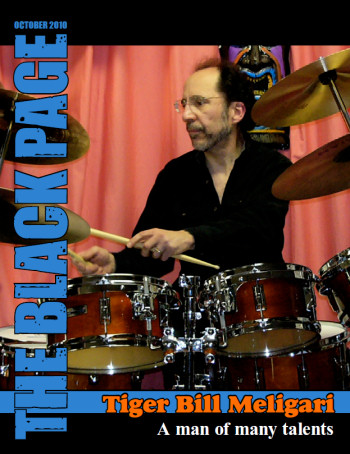 Tiger Bill's Drum Tips & Tricks
Click Here for the complete archive of Drum Tips!

TigerBill's Bottom Line Video Reviews
Click Here for More Drum Gear Reviews

If you're looking for Tiger-Tested and recommended Products & Services, Check this out!
Click Here for the Lowest Prices on Tiger-Tested Products & Services!

Learn What's Here for You at Tiger Bill's Drum Beat Web Site

Free Text and Video Drum Lessons

Free Monthly Chances to Win Valuable Drum Stuff

Free Comprehensive Video Product Reviews

Free Tips and Tricks to Take Your Drumming to the Next Level

Lowest Prices and Highest Level of Service on the Best Drum Gear

Tips on Tiger Bill's Exclusive Tension Free Drumming Techniques

Scroll down the left hand column and click on the topic of your choice! It's all free!
And, while you're at it, scroll to the top of this page and register as a Free Site Member and you'll receive an valuable drumming resource guide that I created exclusively for my site members... and that's free too!
And your personel info is safe with me. I've been on the Web since 1998 and I've never sold or traded personal information with anyone... ever!
If you like my site, please share it with your friends. And if there is anything you feel I'm missing, please let me know. I appreciate the chance to make it better!
And this is just the beginning of your journey through the world of drums and percussion! Scroll back to the top of this page and explore the many links listed down the left side column.
Have fun, stay loose, and I'll see you online!
Tiger Bill
Become a Free Member of the largest, most Comprehensive Drum Site on the Web
Learn TigerBill's Innovative Tension Free Drumming and take your chops to the next level
Get TigerBill's Free Info-Packed Newsletter, Monthly Chances to Win Valuable Drum Stuff
& Much More...